Jewelry Retouching / photo editing
Why jewelry photo editing
* Usually, raw photographs cannot reveal the shine and gloss of jewelry accurately
* To reveal jewelry image attractive and appealing way.
* To use printable and upload online.
* To remove the unwanted background and distract attention from the main object.
* To remove any kinds of imperfection like dust, scratch, unwanted object, shade, color, etc.
* To get a high-end look that enhances overall conversion by making a positive impression on the product.
* To keep you ahead of the competition by showing your jewelry products professionally with zero tolerance for dents, scratches, and blemishes.
What is jewelry photo editing ?
Jewelry retouching/photo editing means outcome the real beauty of jewelry by any kind of photoshop editing that didn't capture during photo shoot. Jewelry retouching or editing is a complex image editing technique done with photoshop. it's no matter how difficult it is; our experts are adept and specially trained to process jewelry photo editing projects. Also, they are successfully processing our ongoing project.
TYPES of jewelry photo editing
Dust scratch removal
Dust and scratch reflections can totally ruin the bright look of your jewels, even on brand-new products. These tiny spots can negatively affect the advertising potential of your images. The little imperfection can make your photos look defective and unprofessional; your jewelry pieces appear unappealing to customers.
To avoid losing your customers, We will check each of the stones of the jewelry to remove any unwanted dust, scratch, and reflection. Retouchers will polish each inch of an object and prepare them for printing and online stores; by this way, we can transform them into professional-looking images that will capture the eye of your target customers.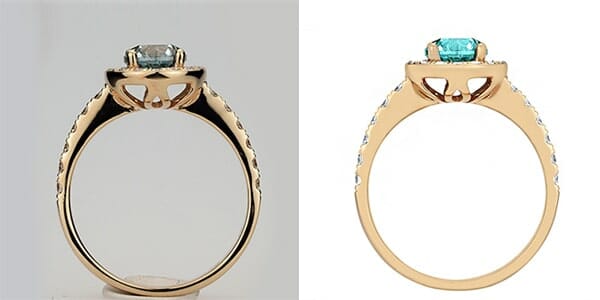 Jewelry background removal
The primary condition for selling jewelry is to present it as attractively as possible. You just need to make the environment show its own beauty. To fully present the beauty of the jewelry, images should be neutral and not distract attention from the main objects.
We will erase and edit out any unwanted objects, replace the initial background with a more suitable option so that the jewelry is presented on its own, and grab the whole focus in a very appealing way.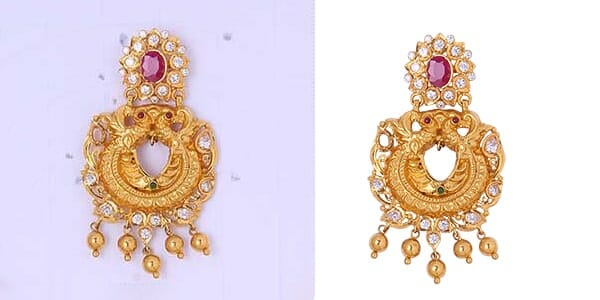 Drop shadow and mirror effect
Shadows and reflections increase the appeal of the jewelry product. Shadow can add dimension and depth to jewelry images. Nowadays Reflection or mirror effect is trending for showcasing jewelry products on the website and marketplace. Also, drop shadow can grab the full attention of the customer. We add drop or reflection shadow where it is suitable.
Shine enhancement
Usually, photographers cannot capture the shine and gloss of jewelry accurately. After photo shooting, you need to photoshop touch to reveal the shine and gloss. We offer this facility for our clients. We will improve jewels and gemstones by fixing the textures and giving shine to the particular stones. No matter how many objects we need to enhance, everything will look elegant.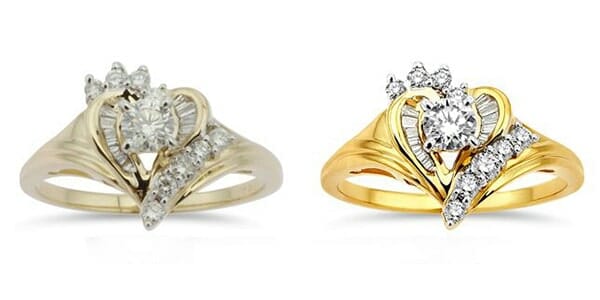 Color correction
Porper color can make emotion and feel on customer mind. The lacing of ideal lighting can make your jewelry look dull in photos. If you are looking to adjust lighting or recolor your jewelry picture, then we are always ready to assist you with color adjustment service. Also, you can contact our expert to consult with you every step of the way to recreate the correct color, shade, and brilliance of the jewelry in the photo.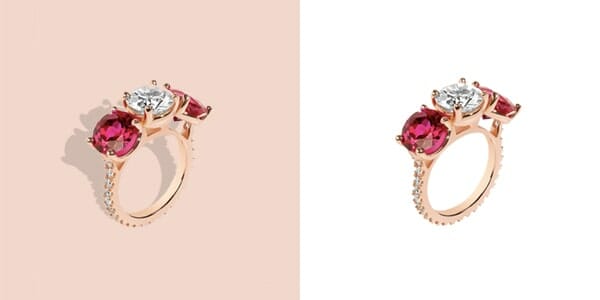 Metal smoothing
If you have different jewelry item photographs that need modification. In that case, we will polish each element of an object, even hard-to-reach places, to confirm the metal is smooth and shiny with an excellent look.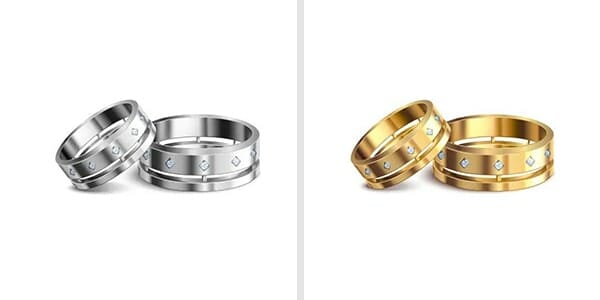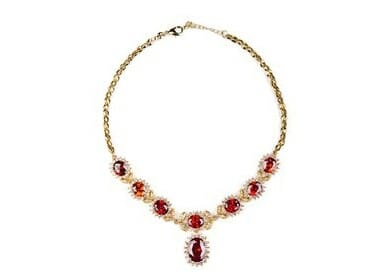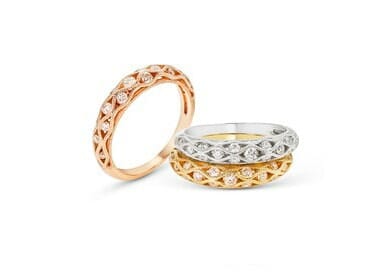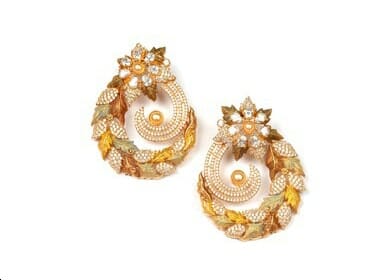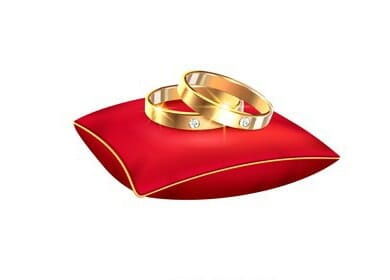 Client Feedback
Use your personal online dedicated team. Get done whenever you need, and share your experience with others below.
Jean Bell
This company is amazing I literally needed 75 edits in 3 days for Clipping path, color change and reflection and they got it done in 19 hours with high-quality work! I highly recommend it. Best out right now!
Atrabal
 Quick and great service thank you
Chris Diaz
Everything was great except 1 image, but its ok, its not their fault, the client pose made it hard for it to be edited
Zelie Harris
Timely deliver at a reasonable cost. The team is really friendly and helpful. They presented my jewelry pictures to a whole new level. I will undoubtedly contact them for more image editing orders. Highly recommend them